How To Make Perfectly Wicked Halloween Sign
tanaya
Paint this plaque white for a simple base to make this Perfectly Wicked Halloween Sign! With your Cricut® machine and vinyl, this DIY is so easy!
Supplies to make Halloween sign
Material:
Craft Smart® Multi-Surface Premium Satin Acrylic Paint
3/8″ Striped Metallic Halloween Ribbon By Celebrate It®
Tool:
Loops & Threads™ Straight Scissors
Foam Brush By ArtMinds®
You'll need also:
Computer
Paper Plate (or Palette Paper)
1 – ArtMinds™ Pallet Wood Plaque, 11″x8″ (10517196)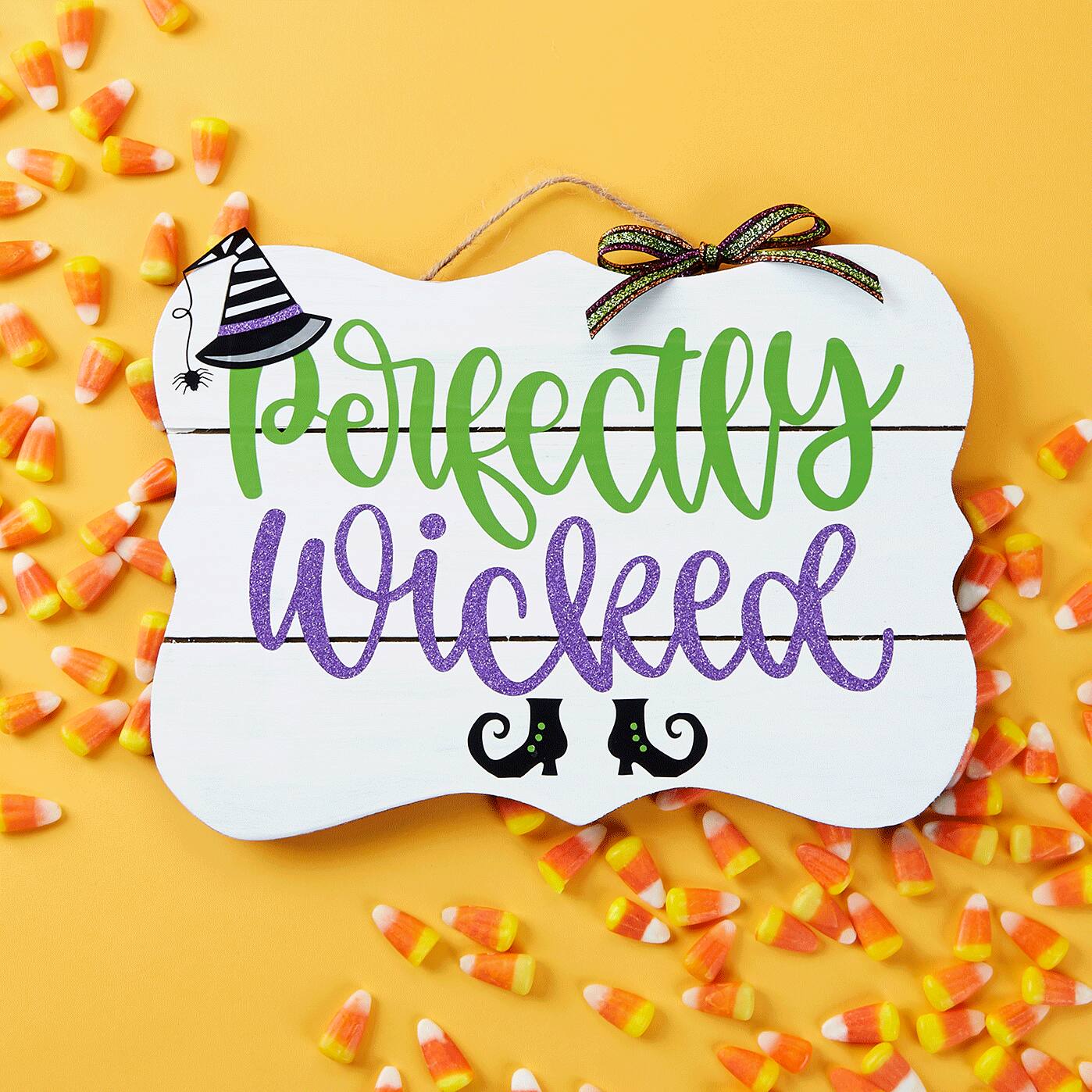 Instructions to make Halloween sign
STEP 1:First, paint your plaque white and let dry. Repeat for a second coat. Set aside to completely dry.
STEP 2: Now, click Here for the design in Cricut® Design Space™.
STEP 3: If needed, size the design to fit your plaque and then click 'Make It' in the upper right corner of your screen. In the next screen, click 'Continue' in the lower right corner.
STEP 4: Place the first color of vinyl, grid-side down, onto your cutting mat and load it into your Cricut® machine. Select 'Vinyl' as your material and follow the prompts to cut out your design. Once the machine has finished cutting, gently peel the vinyl away from your mat. Repeat for your second vinyl color.
STEP 5: Use scissors to cut away the vinyl around your design. Next, use your weeder tool to peel away the remaining negative space surrounding the initial and name. When you're done, only the design itself should be left on the backer paper.
STEP 6: Cut a piece of transfer tape that's just a bit larger than the design. Peel away the tape's backer paper and place the tape, sticky-side down, over this part of the design. Burnish the vinyl so that it's completely stuck to the tape.
STEP 7: Now, gently peel the white backer paper from the cut-out design, which now should be stuck to the transfer tape.
STEP 8: Hold the transfer tape with the design over your surface to determine where you'd like it placed. Make sure it is centered and straight; then press it onto your surface. Burnish the vinyl once more to make sure it's completely stuck to the surface and gently peel away the transfer tape, leaving the vinyl transferred to your surface.
STEP 9: Repeat Steps 6-7 for the next layer.
TIP: The witch's hat is layered so start with the white layer, then add the black and finally, purple. The Bright Green buttons are also to layer on top of the black boots.
STEP 10: Tie a bow with Halloween ribbon around the hanger and trim the ends at an angle to prevent fraying.